Home Office Cabinets & Other Rooms
Home Office
Whether you are looking for a whole room set-up, shared space as a guest, or just a nook in the kitchen ... with thoughtful design your home office can accommodate storage, multiple users and all the equipment you need.
Custom home office cabinets, drawers and desktops will help keep you organised, making you more efficient and will be a beautiful addition to your home.
At Dodge Cabinets, we consider the space needed for equipment such as computers, printers and phones. Custom cabinets and shelves will provide practical space for books, supplies and other office related items.
Other Rooms
What about outdoor spaces to entertain your friends at the BBQ or stylish bookshelves, storage under a window seat or even the mantlepiece in your lounge?
Dodge Cabinets have a great team who can work with you to design the perfect cabinetry solutions for your home.
View our Home Offices and Other Rooms Projects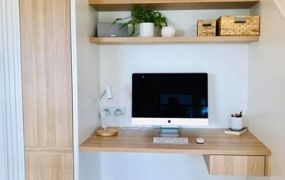 Contact Us
Interested in a stylish and functional home office space with expert custom cabinetry? We'd love to discuss the possibilities with you.
Get in Touch