Bathroom Vanities & Laundry Cabinetry
Custom Bathroom Vanities and Cabinets
Creating beautiful bathroom vanities that function correctly comes down to the finer planning.
Bathrooms do have less cabinetry, so planning is a critical factor in creating a bathroom that functions as well as looks astounding. Just like the kitchen, a bathroom requires electrical, plumbing, and tiling.
Having a detailed plan before starting is the key to bathroom beauty.
Laundry Cabinets
Laundries don't need to be plain, boring spaces that purely serve a function. It's possible to enjoy doing laundry when the space is stylish and organised, with clever design details to make washing day a breeze.
Whether your laundry is located in the hallway behind doors or in a separate space near the kitchen, matching your materials used with your kitchen is a clever way to create a pleasant flow of your homes style through multiple rooms, creating a streamlined finish.
Alternatively, if your laundry isn't located near the kitchen you may choose to use tones and materials that complement its nearest space, such as a bathroom or outdoor entertaining deck.
View our Bathroom & Laundry Projects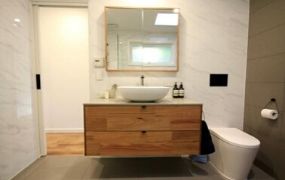 Contact Us
Interested in an updated bathroom or laundry with expert custom cabinetry? We'd love to discuss the possibilities with you.
Get in Touch