Custom Made Kitchen Cabinets
At Dodge Cabinets, your kitchen design is managed by the same team that builds and installs your kitchen.
We are extremely familiar with many different types of materials and styles of kitchen.
All our kitchens come with a 10-year manufacturer's warranty. Each and every customer receives 100% dedication to ensure the kitchen of your dreams.
Your Kitchen Design
We use a 3D rendering program to give you piece of mind in how your kitchen will look before it is manufactured and installed.
Our resourceful designers will help you design a kitchen to suit your individual needs and space in your home. Our design team can assist you even if you are unsure of what you require, or if you know exactly what you want.
We often find plans drawn by others can be very basic and have limitations on their cabinet sizes to make it easier for them. We utilise every millimetre we can to maximise your kitchen space and provide you with full custom cabinetry.
View our Kitchen Projects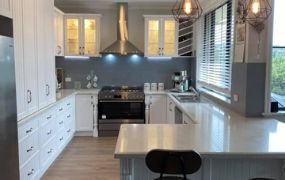 Contact Us
Interested in a new kitchen with expert custom cabinetry? We'd love to discuss the possibilities with you.
Get in Touch